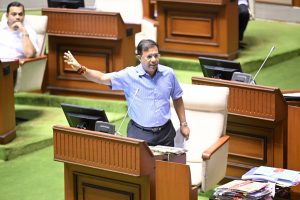 Panaji: Forest Minister Vishwajit Rane told the House that the state's only zoo at Bondla is being renovated in phased manner, implementing Rs 100 crore master plan approved by Central Zoo Authority. The issue was raised on the floor of the House by AAP MLA Cruz Silva on Thursday during the ongoing monsoon session of the assembly. Silva pointed out that the zoo has been losing its past glory due to its pathetic situation.
The zoo is located in North Goa's Valpoi assembly constituency. Responding to the question, Rane said that annually 80,000 visitors arrive at Bondla Zoo. He admitted that the condition of the facility is in very bad.The minister said that the masterplan for renovation and refurbishment of the zoo has already been drawn and approved by the Central Zoo authority. He said that the implementation of the plan will cost the state Rs 100 crore, that is why the plan would be executed in phased manner.
He said that the state government has already decided to accept investment from private persons or companies for which a separate fund is created. "Those who are animal lovers or environmental concerned persons or companies can contribute to this fund, which would be used in upgradation of this zoo," the minister said.