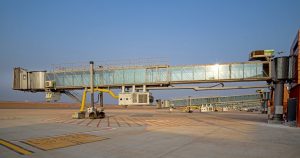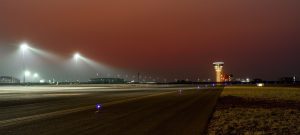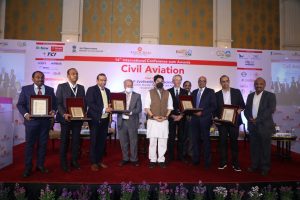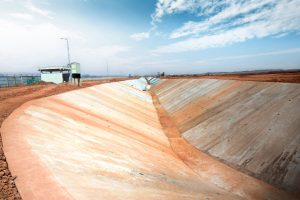 GMR Goa International Airport Ltd. (GGIAL), a subsidiary of GMR Airports Infrastructure Limited, has clinched the prestigious "Best Sustainable Greenfield Airport" award under Aviation Sustainability & Environment at ASSOCHAM 14th International Conference cum Awards for Civil Aviation 2023. The award was presented for the excellent initiatives taken by GGIAL in implementing Sustainability as one of core concepts.
At a grand event organized during ASSOCHAM 14th International Conference cum Awards for Civil Aviation 2023 at The Leela Palace, New Delhi . Jyotiraditya M. Scindia, Hon'ble Union Minister of Civil Aviation, Government of India presented the award to the senior officials from GGIAL amidst the presence of industry dignitaries and participants.
The prestigious forum recognizes the companies engaged in Civil Aviation initiatives that adopt best practices and technological advancement in their daily operations. The criteria of Awards are contribution, innovativeness, applicability, relevance and impact potential in their respective areas. The jury evaluated the participants on various parameters and innovative thought process.
Mr. R V Sheshan, CEO, GMR Goa International Airport Ltd, said, "We are delighted to receive this prestigious award, which reaffirms our steady commitment towards sustainability by best use of the available energy and natural resources. Sustainability as one of core concepts, New Goa Manohar International Airport is designed to be a zero-carbon footprint airport and will join the elite club of green airports across the world. The award is testimony to GGIAL's commitment towards sustainability. As a responsible corporate we will continue the work on energy conservation and environmental sustainability."
Sustainability Initiatives at New Goa Airport:
GGIAL has received Indian Green Building Council (IGBC) Platinum level Pre-Certification for New Building, for embracing various resources conservation (energy, water, natural light, ventilation, waste minimization) etc by design.
On-site 5 MW Solar Power plant as renewable energy feed for captive power demands vis-à-vis fossil fuel based power (grid).
To reduce Green House Gas (GHG) Emissions from Auxiliary Power Units (APUs) of Aircrafts, Bridge Mounted Equipment with Fixed electrical ground power (FEGP) & Pre-Conditioned Air Supply (PCA) systems has been provided
Across the entire airport, LED lighting system have been adopted in all Buildings and Airfield Ground Lighting (AGL) systems, facilitating Energy Conservation.
Refuelling of Aircrafts with underground Fuel Hydrant System, thus eliminating need for road movement of Aviation Turbine Fuel (ATF) bowsers, thus reducing corresponding vehicular emissions.
100% of treated Sewage Treated Plant (STP) water will be reused for Cooling Tower make-up, toilet flushing through dual plumbing system and irrigation for horticultural purposes. New Goa International Airport is Zero Liquid Discharge Unit.
Storm Water Drains and Inline Rainwater Harvesting pits are provided, as per approval of Water Resources Department (WRD), GoG, thus recharging ground water up to 30% of rain-water harvested during monsoon seasons.
500  nos. indigenous trees transplanted within the project site.
165 Acre of land with existing tree cover have been preserved undisturbed within project site.
As a part of compensatory tree afforestation plan, 5 Lac Tree Saplings have already been planted in and around the airport project site within Goa State through Goa State Bio-diversity Board (GSBB), GoG.
'Integrated Waste Management Plan' is in place for managing all types of wastes in most environmental friendly manner, adopting 3 Rs (Reduce, Recycle & Reuse) principles.
Full-fledged Environment Management Cell (EMC) headed by Vice President has been constituted to monitor & implement Environmental Sustainability.