Panaji, 1st August, 2023: The Legislative Assembly at Porvorim is now accessible to Persons with Disabilities (PwD). On Tuesday, PwD's were seen using the wheelchair accessible EV Vehicles to enter the complex in Porvorim and then use the ramps to get access to the viewing galleries after the Office of the State Commissioner for Persons with Dissabilities (PwD), took personal congnizance of the recent media report that was published about a student being lifted and taken to the gallery at Goa's Legislative Assembly.
To ensure accesibility to the galleries in the assembly, ramps were created within a matter of four days so that PwD could have easy access and view the assembly proceedings. With this development now, Goa becomes one of the few states to have created accessibility for PwD'S.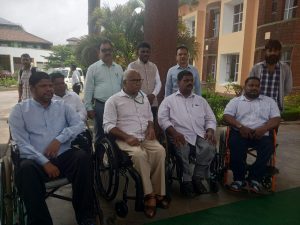 Ramesh Tawadkar, Speaker of Goa's Legislative Assembly said, "Assembly is a temple of democracy and each citizen should feel comfortable and be able to view the proceedings nicely.
We took up the issue when highlighted and through the efforts of Honble Social Welfare minister Shri. Subhash Phaldesai and State Commissioner for Persons with Dissability (PwD), Guruprasad Pawaskar, the PwDs will have the opportunity to see the legislators work. No one should be left out from any section of society."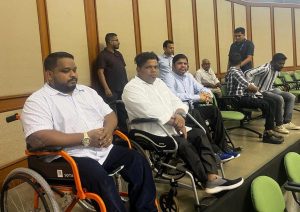 Speaking at the Legislative Assembly, Minister of Social Welfare Subhash Phal Dessai who congratulated State Commissioner for Persons with Disabilities, Guruprasad Pawaskar and his team for taking swift action to create accessibility in the Assembly Complex— He said: "Goa's Legislative Assembly is now Divyang friendly. We have proactively taken up the issue of making the assembly accessible for Persons with Disabilities and the infrastructure has been created to make the entire building accessible including the galleries. Special care is taken to make entry and exit smooth of PwD's. A special platform has been created in the gallery for PwD's and chairs have been removed to ensure for better and unobstructed viewing.
Earlier in the day, Dr. Pramod Sawant, Chief Minister was seen interacting with PwD's as he was entering the Assembly Complex.