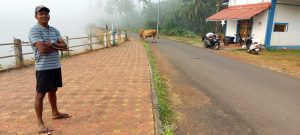 Nuvem is a town and part of Margao metropolitan region in Salcete sub-district of South Goa district, Goa, India. Nuvem famous for its green fields & hardworking village people. We met one such villager Mr. Remedios whose story is an inspiration to every Goan youth who spends more time getting a job rather than trying to start something of their own. This gentleman has tried his hands in all, managed to go aboard (Kuwait) to earn livelihood but was not happy with the returns so returned & started farming which was his ancestral business and dairy farming along with it. Which went well and made him stable with which he raised his Kids educated them and ran his family as well. On this he said it was not easy to manage the farming & dairy farming business initially he had the manpower to manage it. Govt. subsidies also helped him but the amount given was less and disbursement takes months which makes running the business more difficult.
Though the Govt. schemes are benefiting such small businesses they need to be upgraded and more consumer friendly so that more and more youth are attracted to such initiatives. He sells milk locally and also supplies it to the dairy. The setback was the Covid Period. But he managed all odds and is happy with the way things are going his kids are grown up now and working and telling him to stop working and take a rest from the ancestral business. But he says will do it till he can manage it.
Though this story looks simple the message conveyed is important never give up. And there are so many businesses which can be taken up and made a profit from along with giving employment to others.