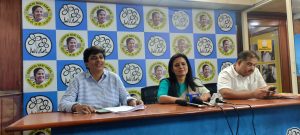 One of the most prominent woman leaders of the Congress and a credible voice from South Goa, Smt Ethel Lobo joined Goa TMC today in the presence of Smt Mahua Moitra, Member of Parliament & AITC Goa in-charge and Shri Yatish Naik, senior Goa TMC leader.
Smt Ethel Lobo was associated with the Congress for over 30 years and is also former Vice-Chairperson of Margao Municipal Corporation. Lashing out at the 'High Command' culture in the Congress, Smt Ethel Lobo said, 'Congress in the last few years has gone down the drain. They treated me like a doormat. They have no respect for their workers.'
Expressing her agony at the disrespect that was meted out to her, she said, 'I felt choked. I helped build the party but they gave me a deaf ear. The Congress takes its workers for granted. They really broke my heart.'
When asked about a certain fake video having gone viral in social media, Smt Ethel Lobo said, 'Don't go by rumours, please go by facts. It was my personal will and desire to join Goa TMC. Nobody sent me here.'
Welcoming Smt Ethel Lobo into the party, Smt Mahua Moitra said, 'This is my first day as AITC Goa in-charge and I'm delighted to welcome Smt Ethel Lobo who has been a prominent part of the social fabric of Goa. I welcome her to the TMC family. We will show Goa what we have shown to Bengal and the rest of the country as far as women representation is concerned.'
Replying to a query raised at the press conference on whether TMC was willing to have a woman as their Chief Minister, Smt Mahua Moitra said, 'Whoever is a deserving candidate will be TMC's chief ministerial candidate irrespective of their gender. Do you ask a man, are you a man politician? A Chief Minister is a Chief Minister and their gender is irrelevant.'
Goa TMC wholeheartedly welcomes Smt Ethel Lobo into the family. With this move, Goa TMC moves ahead with its goal of giving women more representation in politics, a move that will fast-track the ushering in of a new dawn in Goa.
GOA TMC PRESS NOTE
Date: November 17, 2021
Location: Panaji, Goa